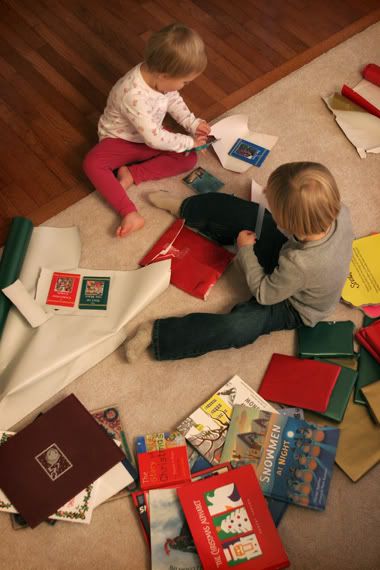 A favorite December tradition that I have taken from my childhood is wrapping holiday books to be opened and read each night before Christmas. Not knowing what book you will be reading each night makes for a fun surprise and unwrapping the packages is always a pleasure! Our book collection has grown so we open a couple books every night of the month, but this can be set up as a 12 Days of Christmas/Hanukkah tradition too. We keep the wrapping simple and let the kids help
(yes, my 2-year old has the scissors!)
. They have fun with it and everyone has a good time getting a sneak peek at the books we will be enjoying.
My reasoning behind wrapping lots of books and keeping the wrapping simple is this: The day after our wrapping party my daughter opened maybe a third of the books we had wrapped in a matter of five minutes of alone time. Fortunately that is what they are there for and it left us with lots of books to read outside of the special books to be unwrapped nightly. This is just a warning in case you put a lot of effort into wrapping beautiful packages!
I have a few books I want to add to our collection this year and am always open to other's favorite titles. Do you have any children's holiday book recommendations? If people are interested I am happy to take the time to list and link to the books we enjoy, but only if people express interest!